Ransomware attacks have become increasingly prevalent and sophisticated in recent years, causing devastating consequences for businesses of all sizes. In this article, we will discuss ten practical steps that organizations can take to safeguard their systems and data against ransomware threats using Microsoft tools. From enabling Microsoft Defender Antivirus to implementing Azure Backup and Azure Site Recovery, these measures can significantly reduce the risk of ransomware attacks and help organizations better protect their valuable assets.
There are several practical steps you can take to secure your organization from ransomware threats using Microsoft tools. Here are some specific measures to consider:
Use Microsoft Defender for Endpoint 
Leverage Microsoft Defender for Endpoint, a comprehensive endpoint security solution that offers advanced threat protection against ransomware and other threats. Enable the "ransomware protection" feature to detect and block known ransomware families. 
Microsoft Cloud App Security
One of the key ways that Microsoft Cloud App Security protects against ransomware is through the use of user behavior monitoring and anomaly detection. The tool analyzes user activity in the Microsoft cloud and, based on factors such as the type of actions being performed, working hours, and location, identifies potential threats. Furthermore, Microsoft Cloud App Security can apply security policies that automatically block suspicious user or device behavior, such as attempts to download suspicious files or connect to suspicious servers.
Implement OneDrive/SharePoint
Overall, OneDrive and SharePoint are powerful tools that can be used to protect against ransomware attacks. SharePoint's versioning feature offers an additional layer of protection against data loss, while granular permissions management prevents attackers from accessing or modifying sensitive files. This feature also helps in tracking changes made to files, and users can restore previous versions, reducing the risk of data loss and easing data recovery in case of a ransomware attack.
Implement Microsoft Defender for Office 365
Use Microsoft Defender for Office 365 to protect your organization's email and collaboration services. This tool can help detect and block phishing emails and malicious attachments, which are common ransomware delivery methods.
Enable Microsoft Defender Application Guard
Activate Microsoft Defender Application Guard to isolate untrusted websites and files in a virtual container, preventing potential ransomware from reaching your device and data.
Apply security updates and patches
Ensure that all Microsoft software, including Windows, Office, and other applications, are regularly updated with the latest security patches. These updates often fix vulnerabilities that ransomware and other threats could exploit.
Use Azure Backup and Azure Site Recovery
Implement Azure Backup to regularly back up your critical data in the cloud, ensuring it can be recovered in case of a ransomware attack. Azure Site Recovery can help maintain business continuity by replicating your virtual machines to a secondary location.
Implement Azure Active Directory (Azure AD)
Use Azure AD to enforce strong access controls and multi-factor authentication (MFA) across your organization. This helps prevent unauthorized access to sensitive data and systems, reducing the risk of ransomware infection.
Use Azure Sentinel
Deploy Azure Sentinel, a cloud-native Security Information and Event Management (SIEM) solution, to collect, analyze, and identify ransomware-related security events across your entire organization.
Develop a Security Awareness Training program
Leverage Microsoft's Security Awareness Toolkit to create a comprehensive training program for your employees. This can help them identify and report phishing emails and other ransomware delivery methods. Defender Plan for Office P2 allows to run simulations of cyberattacks on your organization. These simulations test your security policies and practices, as well as train your employees to increase their awareness and decrease their susceptibility to attacks.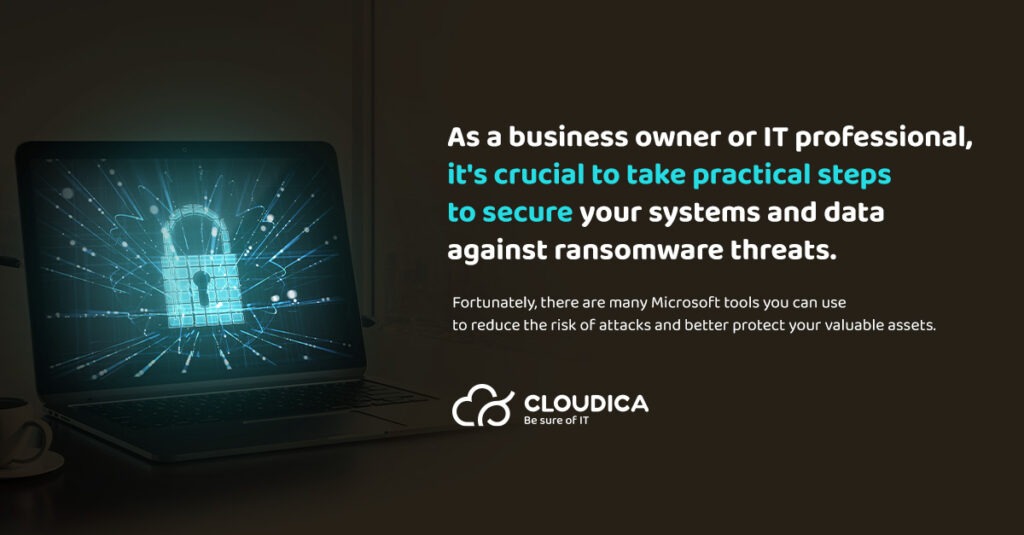 As a business owner or IT professional, it's crucial to take practical steps to secure your systems and data against ransomware threats. Fortunately, there are many Microsoft tools you can use to reduce the risk of attacks and better protect your valuable assets. By implementing measures such as enabling Microsoft Defender Antivirus, using Azure Backup and Azure Site Recovery, and applying security updates and patches, you can significantly improve your organization's security posture. Additionally, utilizing tools like Microsoft Defender for Endpoint, Microsoft Cloud App Security, and OneDrive/SharePoint can help safeguard against specific ransomware threats. By investing in these tools and following the ten practical steps outlined in this article, you can better protect your business from the devastating consequences of a ransomware attack.