Cloudica: Bringing Technology Experts and Businesses Together
Cloudica is a leading technology services provider with over 5 years of experience in providing reliable, expert technology solutions to businesses across the globe. We are dedicated to providing our clients with high-quality services that meet their needs and exceed their expectations.
Cloudica offers a wide range of IT services including cloud computing, data center management, virtualization and storage solutions along with application development & maintenance services for both on-premise & offsite environments.
Our Approach: Personal Connection on a Global Scale
We believe that the best way to serve our clients is by offering them a personal connection on a global scale. We're streamlining operations, investing in staff and embracing the latest trends in the tech industry so you can get more done with less.
Our Mission
Our mission is to empower your business through reliable and expert tech services. We believe in building relationships with our clients, so we can better understand their needs, and provide them with the best possible experience that fits their budget. We are committed to providing you with the highest level of service possible while maintaining a high level of integrity in everything we do.
Our CORE Values
Our core values are Care, Openness, Reliability and Expertise. These four elements are at the heart of everything we do. They're what make us different from other companies in our industry and they're what will help you get more out of your goals than ever before.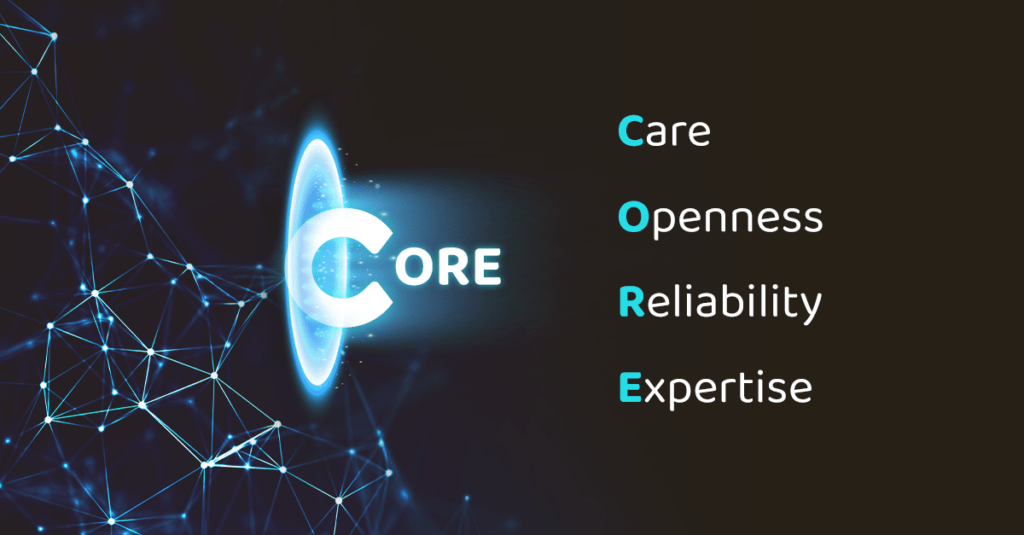 Care
As a client, you want to know that your project is in good hands. We're here to help you do just that. Our team will conduct thorough assessments and develop detailed project plans so that you can rest and be sure that we are here to cooperate closely with your team. This meticulous approach guarantees minimal disruption to the business and maximizes efficiency gains. 
Openness
Embrace new ideas. We're open to new ideas and approaches, and we're always looking for ways to improve our services. By adapting our approach and embracing new ideas, we remain agile and responsive, ensuring that we deliver a solution that best serves the client's evolving needs. 
Reliability
Our account managers are dedicated to you. They work with you to coordinate support and maintenance, so you can be sure that your business will always be up and running.
Our team of developers has been working together for years, which means they know each other's strengths and weaknesses. They also collaborate on projects regularly, which allows them to build on each other's ideas while learning from one another's mistakes and successes!
Expertise
When addressing a complex cybersecurity issue for a client, our team of experts leverages their in-depth knowledge of the latest security protocols and threat intelligence. By identifying vulnerabilities, implementing robust security measures, and conducting regular audits, we provide comprehensive security solutions that protect the client's business and instill confidence in their IT infrastructure.
Experience the Power of Cloudica
We've come a long way. And we've learned that the key to success is not just in our DNA, but also in yours. We're committed to being your go-to partner for co-creating value and delivering reliable and expert tech services no matter where in the world you are.
We know you have high expectations for us, and we want nothing more than to exceed them every time. From our first conversation through project completion, we'll be there with personal touches designed specifically for each client's needs so that together we can keep building great things together!
If you'd like to see some examples of what cooperation with our customers looks like, check our recent case studies: