My story - Certifications in IT. Adam Kotecki, CEO
Over the course of my IT career, I have earned many different certifications, each with pros and cons. In the following article, I will describe some of my experiences in earning them and their subsequent usefulness. 
In 2002, I earned my first MCP (Microsoft Certified Professional) certifications related to Windows Server 2000. I was in the U.K. at the time, and focusing on learning and earning these certifications seemed like a sensible step. These certifications allowed me to earn the MCSA (Microsoft Certified System Admin) title, which used to be very recognizable and probably more valuable than today ones.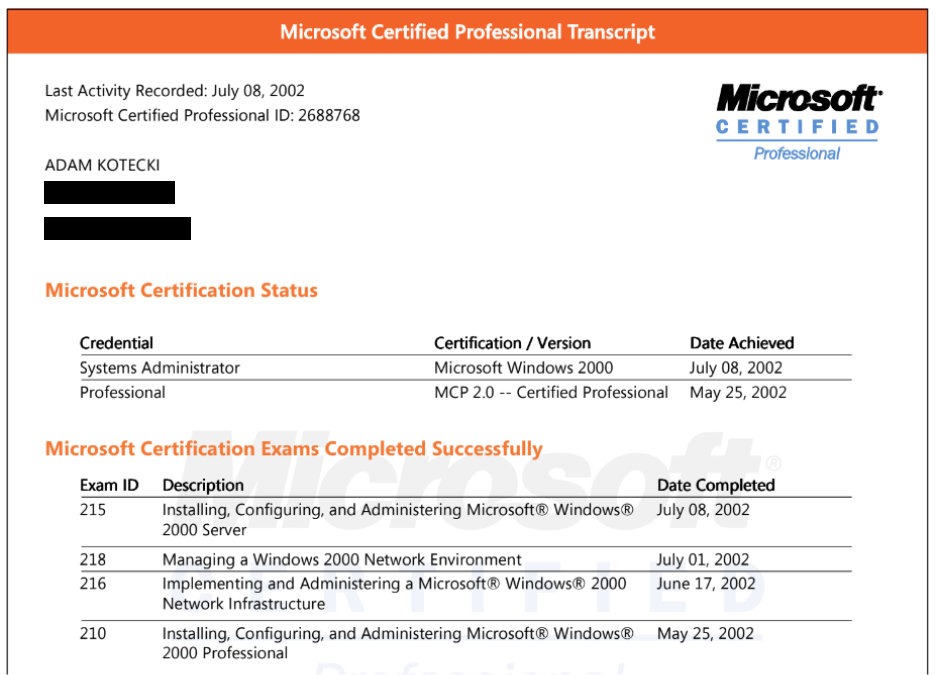 Pros: 
– Confirm knowledge of Microsoft technologies. 
– They help you get a job or advance in Windows systems administration. 
Cons: 
– Limited to one technology vendor, which can be problematic in today's diverse IT world. 
– Older versions of these certifications no longer have value today due to changes in Microsoft technologies.  
I earned the ITIL v2 Foundation certification in 2005, which became the starting point for my later interest in IT management. This certification provided me with a new perspective on ITSM, although in its version at the time it focused mainly on maintenance and support processes. At the time, it was a valuable certification, distinguishing its bearer in the market. Today, after almost two decades – the contents of ITIL v2 are, in practice, "taken for granted" in the world of IT management. 
 
Pros: 
– Provides basic knowledge of IT service management. 
– Helps in understanding ITIL processes. 
 
Cons: 
– Outdated compared to newer versions of ITIL. 
– Does not provide advanced knowledge of modern IT management methods. 
– At the Foundation level, it is more of a glossary of terms 
I earned the ITIL v3 Expert title in 2011, taking an abbreviated path from the v2 version. It was a difficult journey, and the exam itself resembled a written high school diploma, only in English. The certification didn't directly contribute to my career advancement, but it boosted my confidence in the ITSM field and reaffirmed that the decision I made about my IT management path was the right one. 
 
Pros: 
– Demonstrates advanced knowledge of IT service management. 
– Strengthens confidence and changes approach to IT management. 
Cons: 
– The exam was difficult, and having to write answers in English was a challenge. 
[Professional Scrum Master]
In 2014, I decided to step out of my comfort zone and earned my Professional Scrum Master I certification. This was because there was an upheaval in the market due to the development of agile project methodologies, which dramatically affected the refresh of the way IT is managed. Although I didn't use the certification right away, later on, while already working for another company, I gained more project management experience. 
Pros: 
– Gaining a new perspective on project management and agility in IT. 
– Being open to new approaches to work. 
Cons: 
– No immediate professional benefits. 

My next certification was COBIT5 Foundation in 2015. I was curious to see how this tool could help assess organizational maturity and process management, both in operations and security. I treat it as a complement to the 'operational' knowledge that ITIL gives with 'auditing' knowledge. 
Pros: 
– Helps in assessing the maturity of an organization. 
– Offers a practical approach to management. 
– Largely compatible with ISO 
Cons: 
– Complicated to implement in real life world… 

In 2015, I decided to take a course in gamification. At the time, it was new to the Polish market. This course opened my eyes to a creative approach to task execution in business. It was something completely different from ITIL, COBIT or Microsoft certifications. It very much emphasizes the soft elements in particular motivation when planning tasks and processes. Worth a try! 
Pros: 
– Openness to new approaches to motivation and creativity at work. 
– Practical answers to questions about implementing change in the organization. 
Cons: 
– This certification is not specific to IT, which can be problematic in some environments. 
Back in 2015, I earned the CGEIT (Certified in Governance of Enterprise IT) designation from ISACA. I consider this certification the most important among 'governance' certifications in my career. It has given me the confidence and, through it, the ability to take responsibility for areas larger than just backoffice IT teams. 
Pros: 
– Advanced training, practical approach. 
– Increased competence and ability to manage at a higher level. 
Cons: 
– Lack of recognition in Poland  
– No immediate impact on career advancement. 

I passed the Prince2 Foundation certification in 2015. Having experience with the PMI approach (from my postgraduate studies at the University of Economics in Poznan), I found it worthwhile to supplement my knowledge and gain a comparison. Prince2 is more concrete and practical.  
Pros: 
– Concrete and practical project management methodology. 
– Broadens the perspective of thinking about processes. 
Cons: 
– Waterfall type methodology is not suitable for higher risk projects.
[Process Modelling by Bizagi]
In 2016, I earned my Process Modeling certification from Bizagi. It was related to my fascination at the time with this tool that helps model business processes. It was especially useful for ITSM management when I was planning IT processes in the organization. 
Pros: 
– Helps with business process modeling. 
– Gives foundation on BPMN notation 
– Opens up new ways of thinking about processes. 
  
Cons: 
– This certification is dedicated to a specific tool, the knowledge gained may not be easily transferable to other tools. 
At the end of 2016, I earned the FitSM Expert certification. This was a certification created by the European Commission to create an IT service management framework that competes with ITIL. For me, it was a valuable addition to my ITSM management knowledge. 
Pros: 
– The framework resembles ITIL, but is more practical. 
– It includes an organization maturity assessment module, which is useful. 
Cons: 
– Less well-known than ITIL. 
– Not updated since then 
[MCSA Cloud Platform 2017]
In 2017, I decided to refresh my technical skills and passed the MCSA Cloud Platform 2017 certification. It is now a discontinued certification, but at the time it validated advanced knowledge of Microsoft Azure. 
Pros: 
– Confirms knowledge of Microsoft Azure. 
– At the time, it was very useful for advancing a career in the increasingly popular area of public cloud. 
Cons: 
– Today, this certification is outdated. 

In 2021, I updated my ITIL v4 knowledge and became an ITIL 4 Leader. This was my last certification directly related to IT.  
Pros: 
– Updating my ITIL knowledge to the latest version. 
– Confirmation of skills in line with the latest trends. 
Cons: 
– No long-term impact on career development. 

In 2022/23 I completed an 18-month MBA program, through Quantic University, which included many topics to be used in the practice of an IT leader, and even more so in the practice of a CEO / Business Owner, but that's another story…. 
 
Certifications in the IT industry are an important part of professional development, but it's worth considering which ones best fit your career goals and area of interest. Each certification carries certain benefits, but can also be limiting in terms of career development. It's important to continue learning and adapt the knowledge you gain to changing trends in the IT industry.