Welcome to the second edition of News from the Clouds, the monthly newsletter from Cloudica, your trusted IT partner.
We are expanding
Cloudica now has an office in Copenhagen. As part of our plans to expand internationally over the coming years, we have decided that Denmark is the best place to start. We have experience doing business in the country and are setting up a sales and support team dedicated to the local market. Stay tuned for more news on the subject in future episodes.
Cloudica x Fortinet Webinar this month
We are in the final stages of preparing for the upcoming webinar we are organizing together with our partners at Fortinet. Join us on November 23 at 10:00, where we will discuss the importance of security during a company's digital transformation. We will discuss and show real-life examples of how to handle proper e-mail security, take care of remote access from different devices, and work safely in a hybrid environment. 
An article about Cloudica was featured on one of Poland's largest tech portals, AntyWeb. A story about our first five years in business was shortlisted by the website as part of a drive to promote young businesses in the country. The article covers some of the early hurdles we faced as a company and our ambitious plans for the future!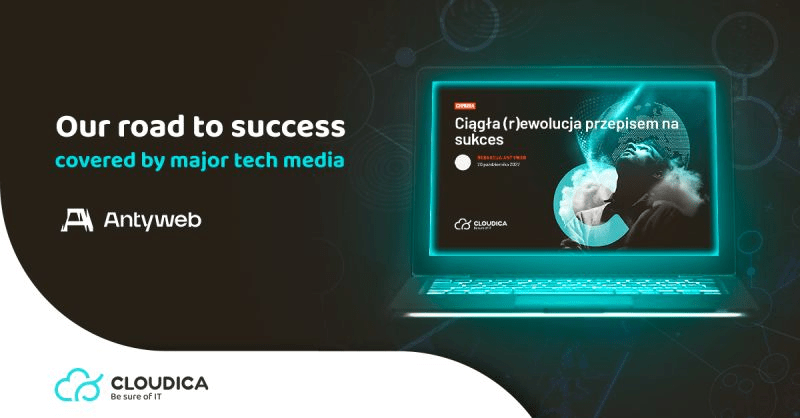 We are on Appsource!
Cloudica has started listing services on Appsource, Microsoft's marketplace for IT and cloud services. We plan to release regular updates to our portfolio of SaaS and ITaaS solutions for customers around the world. This move is part of our ambitions to grow the business internationally. 
Check out our current offer here.
Cloudica marks National Cybersecurity Awareness month in October
We have just ended National Cybersecurity Awareness month. Our CEO, Adam Kotecki, wrote an opinion piece about the most common reasons for companies to implement cybersecurity solutions.
And last but not least: